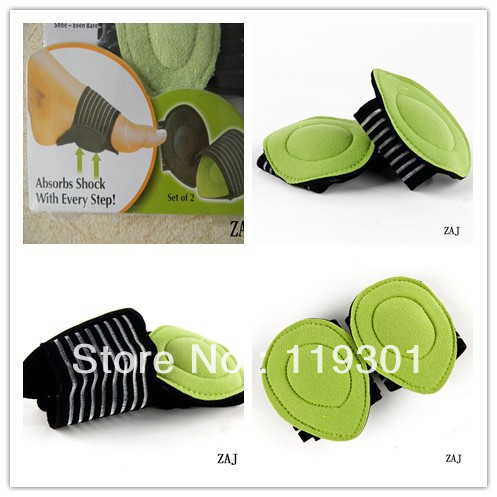 Overview
Plantar Fasciitis is a common athletic injury of the foot. While runners are most likely to suffer from plantar fasciitis, any athlete whose sport involves intensive use of the feet may be vulnerable. The risk of plantar fasciitis increases in athletes who have a particularly high arch, or uneven leg length, though improper biomechanics of the athlete's gait and simple overuse tend to be the primary culprits. If you suffer from plantar fasciitis or are seeking to prevent its occurrence it is important to follow the information in this article. In addition, adding a few simple stretches to your fitness program will also help.
Causes
When the foot moves, the plantar fascia stretches and contracts. Plantar fasciitis is caused by the repetitive overstretching of the plantar fascia. If the tension on the plantar fascia is too great, this overstretching causes small tears in the plantar fascia. This in turn causes the plantar fascia to become inflamed and painful. Factors that contribute to the development of plantar fasciitis include having very high arches or flat feet, gender, while anyone can develop plantar fasciitis, it tends to occur more commonly in women, exercises such as running, walking and dancing, particularly if the calf muscles are tight. Activities or occupations that involve walking or standing for long periods of time, particularly on hard surfaces, wearing high heeled shoes or shoes that do not offer adequate arch support and cushioning, being overweight, additional weight increases the tension on the plantar fascia, poor biomechanics, extra tension is placed on the plantar fascia if weight is not spread evenly when standing, walking or running. Some cases of plantar fasciitis may be linked to underlying diseases that cause arthritis, such as ankylosing spondylitis.
Symptoms
The pain is more intense with your first steps out of bed in the morning or after sitting for a while. The reason for this is that during rest our muscles and ligaments tend to shorten and tighten up. The tightening of the plantar fascia means more traction on the ligament making the tissue even more sensitive. With sudden weight-bearing the tissue is being traumatised, resulting in a stabbing pain. After walking around for a while the ligament warms up, becomes a little bit more flexible and adapts itself, making the pain go way entirely or becoming more of a dull ache. However, after walking a long distance or standing for hours the pain will come back again. To prevent the sudden sharp pain in the morning or after sitting, it is important to give the feet a little warm-up first with some simple exercises. Also, any barefoot walking should be avoided, especially first thing in the morning, as this will damage to the plantar fascia tissue. Aparty from pain in the heel or symptoms may include a mild swelling under the heel. In addition, heel pain is often associated with tightness in the calf muscles. Tight calf muscles are a major contributing factor to Plantar Fasciitis.
Diagnosis
Most cases of plantar fasciitis are diagnosed by a health care provider who listens carefully to your description of symptoms. During an examination of your feet, your health care provider will have to press on the bottom of your feet, the area most likely to be painful in plantar fasciitis. Because the pain of plantar fasciitis has unique characteristics, pain upon rising, improvement after walking for several minutes, pain produced by pressure applied in a specific location on your foot but not with pressure in other areas, your health care provider will probably feel comfortable making the diagnosis based on your symptoms and a physical examination. Your health care provider may suggest that you have an X-ray of your foot to verify that there is no stress fracture causing your pain.
Non Surgical Treatment
More than 90% of patients with plantar fasciitis will improve within 10 months of starting simple treatment methods. Rest. Decreasing or even stopping the activities that make the pain worse is the first step in reducing the pain. You may need to stop athletic activities where your feet pound on hard surfaces (for example, running or step aerobics). Ice. Rolling your foot over a cold water bottle or ice for 20 minutes is effective. This can be done 3 to 4 times a day. Nonsteroidal anti-inflammatory medication. Drugs such as ibuprofen or naproxen reduce pain and inflammation. Using the medication for more than 1 month should be reviewed with your primary care doctor. Exercise. Plantar fasciitis is aggravated by tight muscles in your feet and calves. Stretching your calves and plantar fascia is the most effective way to relieve the pain that comes with this condition. Cortisone injections. Cortisone, a type of steroid, is a powerful anti-inflammatory medication. It can be injected into the plantar fascia to reduce inflammation and pain. Your doctor may limit your injections. Multiple steroid injections can cause the plantar fascia to rupture (tear), which can lead to a flat foot and chronic pain. Soft heel pads can provide extra support. Supportive shoes and orthotics. Shoes with thick soles and extra cushioning can reduce pain with standing and walking. As you step and your heel strikes the ground, a significant amount of tension is placed on the fascia, which causes microtrauma (tiny tears in the tissue). A cushioned shoe or insert reduces this tension and the microtrauma that occurs with every step. Soft silicone heel pads are inexpensive and work by elevating and cushioning your heel. Pre-made or custom orthotics (shoe inserts) are also helpful. Night splints. Most people sleep with their feet pointed down. This relaxes the plantar fascia and is one of the reasons for morning heel pain. A night splint stretches the plantar fascia while you sleep. Although it can be difficult to sleep with, a night splint is very effective and does not have to be used once the pain is gone. Physical therapy. Your doctor may suggest that you work with a physical therapist on an exercise program that focuses on stretching your calf muscles and plantar fascia. In addition to exercises like the ones mentioned above, a physical therapy program may involve specialized ice treatments, massage, and medication to decrease inflammation around the plantar fascia. Extracorporeal shockwave therapy (ESWT). During this procedure, high-energy shockwave impulses stimulate the healing process in damaged plantar fascia tissue. ESWT has not shown consistent results and, therefore, is not commonly performed. ESWT is noninvasive-it does not require a surgical incision. Because of the minimal risk involved, ESWT is sometimes tried before surgery is considered.
Surgical Treatment
More invasive procedures to treat plantar fasciitis are usually sought only after other treatment has failed to produce favorable results. Corticosteroid injections deliver medicine into the injured fascia to reduce pain. However, this treatment may weaken the plantar fascia and result in further damage. In addition, extracorporeal shock wave therapy (ESWT) is a treatment where sound waves are sent through the damaged tissue in order to stimulate the damaged tissue and encourage healing. This method is relatively new in treating plantar fasciitis and your doctor will be able to tell you if it is the right method for you. Lastly, surgery is the last option for those suffering from chronic or severe plantar fasciitis.